TO WORK SUCCESSFULLY TOGETHER BEYOND BORDERS, IT IS A "MUST" FOR INDIVIDUALS TO HAVE CULTURAL AWARENESS AND KEEP THE ATTITUDE TO LEARN.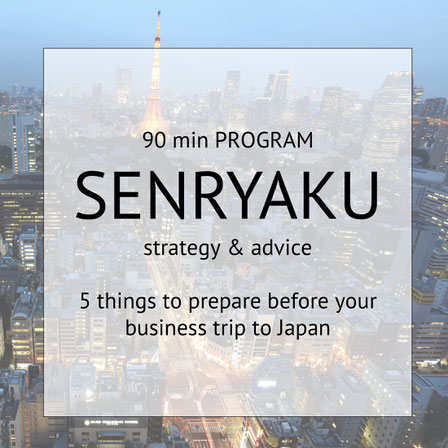 Invest 90 min before your business meeting with the japanese
online & Offline session
SENRYAKU is a Japanese word that means strategy, strategic planning.
"SENRYAKU WORKSHOP for 90 min" is a program to make your meeting and business trip not to be wasted.
It is designed to help time pressured professionals, entrepreneurs, investors, management team, CEO / board of directors to learn the practical communication tools and manners for the meeting with the Japanese.
Helpful for the situation such as ; 
Meeting with the Japanese counter party

Attending a trade show in Japan
Participating in a delegation or incentive trip to Japan
Answers to your questions.
In 90 min, you can learn ;
I

nsight of the Japanese culture, finesse, value and mindset

Communication strategies for upcoming meetings

Practical manners and dos and don't

Get help to make your presentation appealing to the Japanese.
The course is given
in English 

for

 a group or private session.

online session 
For the quotation, to make an appointment, please contact.