TO WORK SUCCESSFULLY TOGETHER BEYOND BORDERS, IT IS A "MUST" FOR INDIVIDUALS TO HAVE CULTURAL AWARENESS AND KEEP THE ATTITUDE TO LEARN.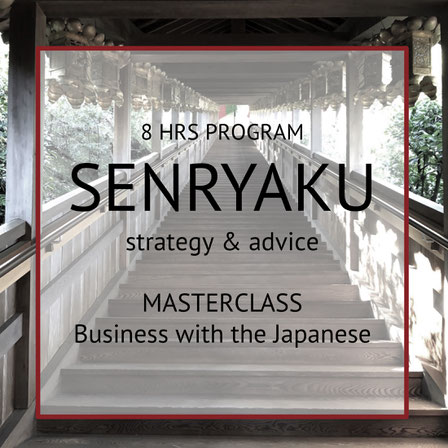 SENRYAKU is a Japanese word for Strategy.
This 8 hours program, "Business Tools for Japan" helps busy professionals, entrepreneurs, investors, management team, CEO / board of directors to do business with the Japanese and achieve their ultimate goal.
Helpful for the situation such as ; 
Considering M&A with a Japanese counter party

Before a meeting with the Japanese counter party

Middle of the negotiation with the Japanese

Post M&A integration

Business trip to Japan

Working

at/with

 a Japanese company

with

 problems & challenges and constantly stressed
In the total of 8 hours, you can learn and build ; 
10 things you need to know to deal with the Japanese 

I

nsight of the Japanese culture, finesse, value and mindset

Brief overview of Japan

Essential Japanese business etiquettes and its effect.

Communication strategies for upcoming meetings

Improvement in your non verbal communication skills  

Daily practice tips to improve your general well being based on Japanese ancient wisdom
The course is given
in English 

One day or 2 half days (4hrs x 2) 

for

 a group and 

private

Online (Zoom, Teams etc) or  at your premises when it becomes possible.
To receive a quotation and book a call, please contact below.
---
By email :
office@azumiuchitani.com
By phone:
+31 6 50 69 38 87
---