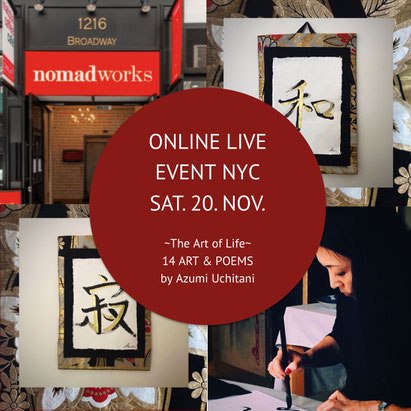 EXHIBITION
DATE :                11 Sept - 4 Dec 2021
ARTIST :              Azumi Uchitani
ORGANISER :     www.nomadworks.com
VENUE :             Art Cafe @ Nomadworks 
LOCATION :       1216 Broadway NY, NY 10001
INFO :                  Exhibition Details
ONLINE EXHIBITION TOUR
DATE :                 Saturday 20 November
TIME :                 12:00-13:00(NYC)18:00-19:00(CET)
SPEAKER:           Azumi Uchitani
Live Stream :      Zoom
RSVP :                 RSVP
The Art of Life 
The exhibition is opened in NYC Nomadworks, Broadway.  Bringing peace, calmness to New York's office space, from Holland.
With my art & poems, I'm delighted to invite you to a journey to my inner kingdom.
As you join my inner kingdom, you will journey into yours. 
Let's keep walking on our path on our nomadic journey.
Let's create the art if life.
With Love & Light,
Azumi 2021
Would you like to receive further details and reserve your spot?  Please fill in the form and we will get back to you!