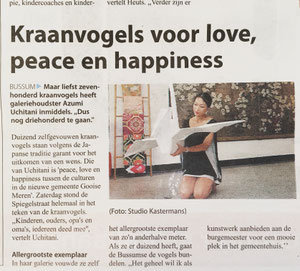 For the cultural day in the community of Bussum on 11 September, we planned and hosted an event with a Japanese touch.
A great example of "co-creation" beyond cultures.
To share Japanese tradition of making ONE THOUSAND ORIGAMI CRANES to wish Peace Love and Happiness in the community of newly established Municipality "Gemeente Gooise Meren".
With the committees of Spiegelstraat business owners, we shared this beautiful tradition.
---
PEACE LOVE HAPPINESS beyond cultures
My mission was to share the beautiful tradition and values beyond cultures.
This event was not a showcase of Japanese culture,
but an event to connect people in the community and
create a collective consciousness "beyond cultures" and to be one.
And wish that all we need in the world is
"Peace, Love, Happiness".
---
Concept & Planning
As a local business owner in Bussum, I have introduced a beautiful Japanese tradition about making 1000 origami cranes to send our compassions and love, wishing for healing, peace or success.
As the local city councils were joining force to create one municipality, this was the time we need to wish for a successful merge, involving people of the community.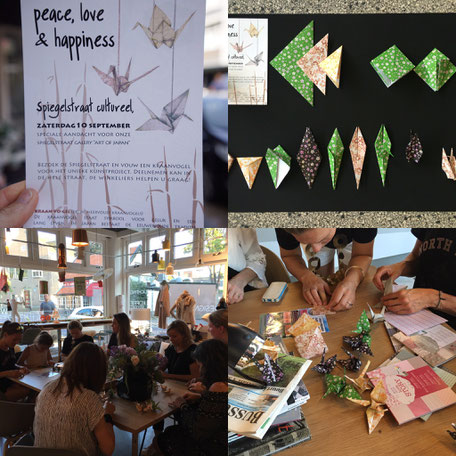 ---
Execution
Created Origami cranes on the entire street together with the business owners, local passers-by from children to grandparents. Made big cranes for decorations. Receiving journalists and photographers for press coverage. Special thanks to Phil Yisrael for  photos with the story.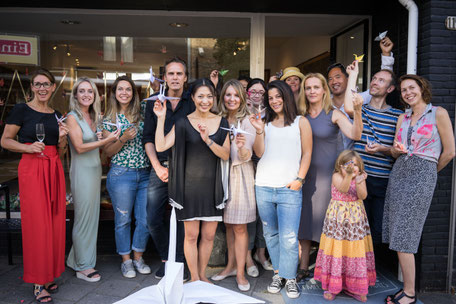 ---
Design & Creation
1000 crane birds were collected over the month of September. In Japanese tradition, they are assembled together with threads and hanged together. However, to make it as an art form, togehter with our local framer Theo Petri, we managed to frame the cranes as a form of art.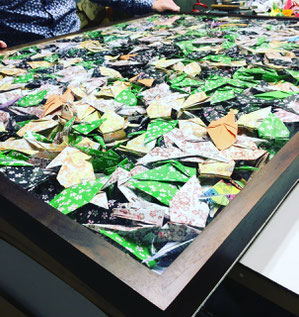 ---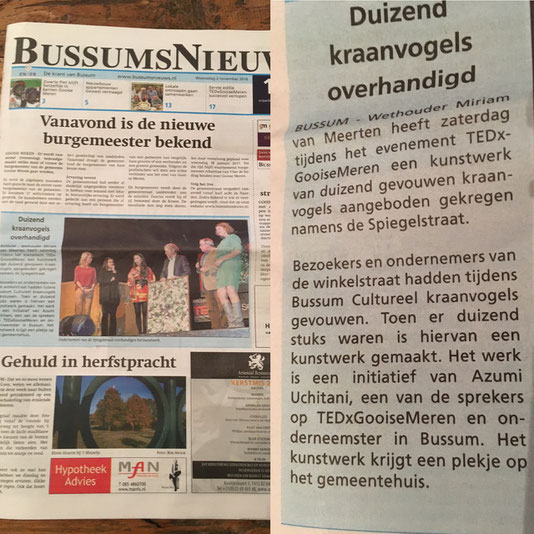 ---
Result
We transformed the 1000 cranes into the art form and present to the newly appointed mayor on 29 October at TEDx event after my talk and shall be displayed in the new city hall as "People's art".
It was delivered to Ms Miriam van Meerten (Alderman/wethouder),at the office of newly established municipality, Gooise Meeren.
---