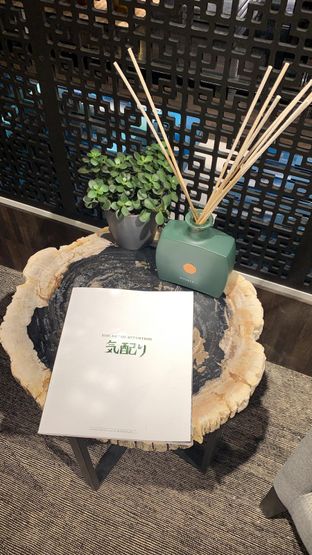 "What is the art of attention in Japanese?"
 asked, my client, MPG, Amstelveen/New York based marketing company, a publisher for Rituals Magazine.
The word I chose was KIKUBARI
気 "KI" :  energy of our life force
配り "KUBARI" : distribute
KIKUBARI is a Japanese word that describes the act of paying appreciative attention to the people around you without expecting anything in return.
KIKUBARI brings a subtle smile to the hearts of both the giver and the receiver.
It is a thoughtful gesture of giving and sharing the energy of love and kindness.
This is one of the beautiful values that I cherish and practice. It is all about love and kindness to people around yourself as well as ourselves. The Japanese Tea ceremony is one of the finest examples of KIKUBARI.
This gesture comes from our pure self and not from our mind. It is only possible when we have space in our mind and when we are not clouded by our thoughts.
Stillness - Inner Peace - Present.
When the mind is empty, we are fully in the now.
We can create these moments not only when we are meditating, but also any time, anywhere.
It is a practice that creates as much of these moments throughout our day.
It takes dedication and focus to master this practise and create "KIKUBARI" - distribution of loving energy, give appreciative attention during even the mosted heated meeting or arguments.  It is all about awareness and you will find amazing results to transform any situations. 
Now, back to Rituals Magazine, it was beautifully designed and I was very satisfied with how my calligraphy came out. Making Calligraphy is one of my favourite practices to create Inner Peace and to be in the now. It is with great gratitude that I have the freedom of sharing the beauty of KIKUBARI to the collective world.
The magazine has been distributed through Rituals stores internationally.
Create the moment of Inner Peace where you can give your compassionate attention to all.
Let us create Inner-Peace together.
With Love, 
 Azumi
---
The making of KIKUBARI...
from my Salon to the Rituals stores!
My calligraphy is an expression of the energy that I am with, so always start with meditation.
It is a freestyle, evolved over the years.
I love the rustic result on rough paper.
However, when it comes to making calligraphy for my clients, I take into account their preference and the style that suits the purpose.
Always a challenge but an absolute pleasure.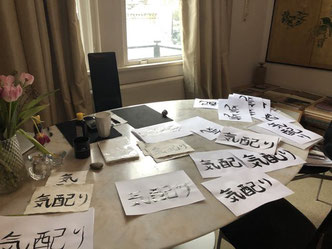 For the concept, I chose the word 気配り
The calligraphy for these words had to be as clear and smooth as possible as the to bring the maximum effect on paper embossing finish.
My Japanese Salon becomes a creative art studio! 
---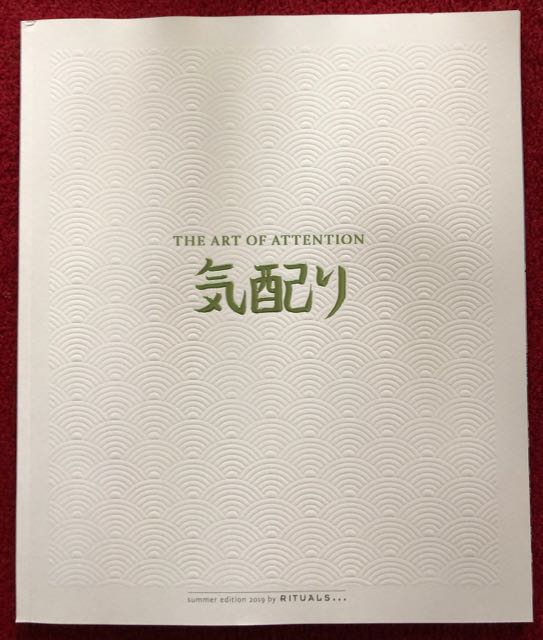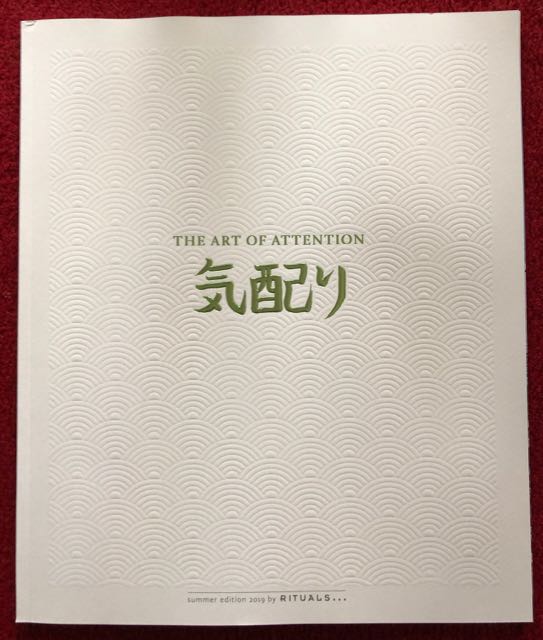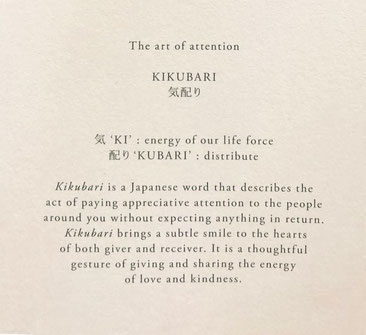 ---
It was lovely to visit the RITUALS store in ZUIDAS and meet the wonderufl ladies! 
Thanks for reading.
Time for tea.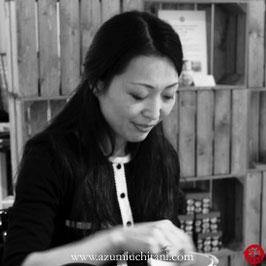 Would you like to know more about Japanese calligraphy and what I do?
You are welcome to explore www.azumiuchitani.com.
If you are interested in my Japanese SALON, please visit www.japanesesalon.com.
Thanks for reading! 
Azumi 
Netherlands, Summer 2019.